Our Practice
A great smile is one that is both healthy and attractive. It can be considered the ultimate essential. Today there is technology to solve just about any smile problem. But, to create a smile that is both healthy, attractive and long lasting, it takes more than just technology. What is missing? An Accredited Member of the American Academy of Cosmetic Dentistry, Steven B. Andreaus, DDS, brings the eye of an artist and skills and experience of a journeyman to the field of aesthetic and restorative dentistry. Dr. Andreaus and his staff use the latest technology and treatment, while offering every convenience to assure you, your visits with his office are pleasant, unhurried and comfortable. Your smile speaks volumes without ever saying a word. Allow us to show you how enhancing your smile can help give you the confidence to laugh, talk and enjoy yourself.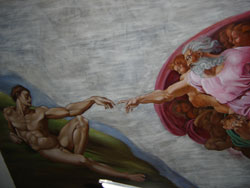 Our professional and caring staff will make your visit pleasant, unhurried and comfortable. As you enter our office, you'll notice original art and sculptures. The outer rooms of our office actually function as Raleigh's Gallery A. We believe our practice benefits from an appreciation of art and beauty. And, although we're proud of having the most current dental technologies, we'd rather have you enjoy the serene, attractive surroundings.
A small boutique practice, we offer personalized care. Don't be surprised by an evening call from Dr. Andreaus if you have undergone a major procedure. Or, by a postcard to keep you abreast of our latest achievements. We'll remember your birthday and remind you when your teeth need cleaning. You are the reason for our success and we want you to be happy.